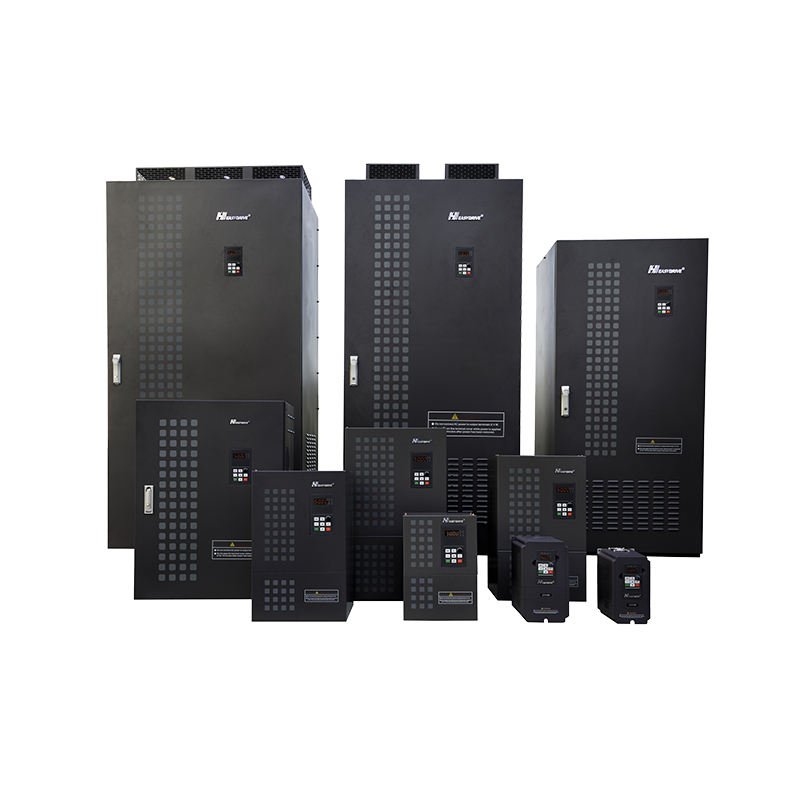 

CV3100 Universal Vector frequency Inverter
Power range: CV3100 0.75~2.2kW/AC220V CV3100 0.75~630kW/AC380V
Features
Specifications
Download
Excellent performance

Optimized space voltage vector control algorithm:150% starting torque output at 0.5Hz

Abundant Functions and Flexible Configuration

Built-in PID , Multi-speed( 8 stages speed at most) ;Simple PLC

High speed Impulse input and output function

With built-in braking unit including and below 18.5kw, built-in standard MODBUS communication protocol.

Optional double analog (AO) output,LCD keyboard display , LCD keyboard upload and download.

Excellent adaptability

All boards with "Comprehensive anti-corrosion paint" spraying protection to improve frequency inverter humidity-proof,dust-proof and Oil-proof capacity
Rich protect functions satisfy different environment adaptability, such as over voltage, under voltage, input phase-loss, overload, overheat, over current and etc.

Product Application

Be applied to petrochemical industry, papermaking, plastics machines, ceramic machines,textile machines,printing and dyeing machines,packaging machines,cable-making machines,Mining machinery, petrochemical, Municipal project, water treatment, environment equipment, fans and pump and etc many kinds of industries.
Item

Standard Specification

Input

Rated voltage and frequency

Single Phase 220V、Three Phase 380V;50Hz/60Hz

Grid range

Voltage: -20%~+20% Voltage unbalance rate:<3

Output

Rated voltage

0~220V/0~380V

Frequency range

0Hz~400Hz

Modulation mode

Optimized spaced voltage vector PWM

Main control functions

Control mode

Sensor-less vector control,V/F control

Frequency accuracy
Digital set: max frequency×±0.01%;Analog set:max frequency*0.2%

Frequency resolution

Digital set: 0.01Hz; Analog set:max frequency×0.1%

V/F Curve

Linear V/F curve、Square V/F curve、Customized V/F curve

Built-in PID

Convenient to form close-loop control system,apply to pressure and flow control

Multi-speed Operation

Realize 8 stages speed operation by built-in PLC or terminal combination

Torque Feature

150% output of torque at 1Hz,Speed stabilization accuracy 0.1%

Running function

Auto energy-saving running
According to load condition,VIF curve can be optimized automatically to get the aim of energy-saving running.
Auto current limiting
Limit in-service current automatically, so as to avoid tripping for fault caused by frequent over current.
Torsion characteristic
150% output of torque at 1Hz, rev accuracy: 0.1%
Motor parameters automatic read
Reading the parameters from motor when completely stop in order to achieve optimal controlling effect.
Running command passage
Setting of operating manual; setting of control terminal; setting of serial port; switching by three ways.
Frequency setting passage
Setting of keyboard analog potentiometer, setting of keyboard ▲ ,keys; setting of functional code digits; setting of serialport, setting of terminal UP/DOWN, setting of analog voltage, setting of analog cuent ; setting of impulse, setting of combination; switching at any time by kinds of setting ways.
Switch input passage
Forward/reverse rotating command,6-way programmable switching value input to set 30 functions.
Analog input passage
2-way analog signal input,0-~20mA,0~10v optional.

Analog output passage

Switch output passage

Analog signal output 0~10V、0~20mA to get output of physical quantity like frequency and output frequency

Sensor-less Vector

Motor ParametersAuto
reading

Automatic read the motor parameters when the motor is perfectly still , to obtain thebest control effect.
Running Command
Operation panel given;Control terminal given;Serial port given;3 ways can switch
Operation Function

Frequency Setting

Keyboard potentiometer setting ; digital setting;Serial port setting;TerminalUP/DOWN,Analog signal setting,Combination given
Switch Input
Forward/reverse command,6-way programmable switching value input to set30functions
Analog Input
2-way analog signal input,0~20mA、0~10V optional
Analog Output
1-way analog output 0~~10V、0~20mA optional
Switching Output
3-way programmable open collector output;1-way relay out output signal
Operate Panel

LED Digital Display

Display output frequency、output voltage、output current and so on
Protection Function

Over-current protection,Over-voltage protection,Low-voltage protection Over-load prtection,Over-heat protection